Decoding the Civil War Launches Today!
Volunteers Wanted! 75,000 Strong!
The call for volunteers on April 15, 1861, by President Abraham Lincoln at the start of United States Civil War was for 75,000 men. One hundred and fifty years after the conclusion of that war, we now issue a new call for volunteers. Decoding the Civil War seeks to engage experts and amateurs alike, our new volunteer corps, in a unique collaboration that promises to provide fresh insights into a much-studied conflict.
Thanks to a two-year federal grant from the National Historical Publications and Records Commission, The Huntington Library, Art Collections, and Botanical Gardens, along with its collaborators, Zooniverse, The Papers of Abraham Lincoln Project (Abraham Lincoln Presidential Library and Museum) and North Carolina State University's Digital History and Pedagogy Project, launches Decoding the Civil War, a crowdsourcing project, to transcribe and decipher a collection of 15,971 Civil War telegrams between Abraham Lincoln, his Cabinet, and officers of the Union Army. This extraordinarily rare collection, acquired by The Huntington in 2012, is a near-complete archive of Thomas T. Eckert, the Head of the United States Military Telegraph office of the War Department under President Lincoln.
The Thomas T. Eckert Papers was thought to have been destroyed after the United States Civil War and includes crucial correspondence that has never been published.  Key among the materials are the 35 manuscript ledgers in which the telegrams sent and received by the War Department were recorded. About one-third of the recorded messages were written in code, and another third may have never been published in the The War of the Rebellion: A Compilation of the Official Records of the Union and Confederate Armies (often simply abbreviated to OR), and there are more than 100 communiques from Lincoln himself.  Fortunately the collection also includes some of the top secret cipher books revealing the complex coding system used to encrypt and decipher messages. It is worth noting that the Confederate Army never cracked the Union Army's code.
Through crowdsourcing, The Huntington and its partners hope to transcribe and decipher these Civil War telegrams and code books with greater efficiency and accuracy than could be done by limited staff, expediting the process of providing open access to these important historical documents. As science has extended its workforce with "citizen scientists" who collect data for scientific research, so humanities scholars are now engaging "citizen archivists." Indeed the hope is to have done in six months what would take a full time staff member 3 to 4 years.
For our volunteers, the new citizen archivists, there will be moments where they will find a message that will bring the immediacy of the war home. Consider this message from General Darius N. Couch: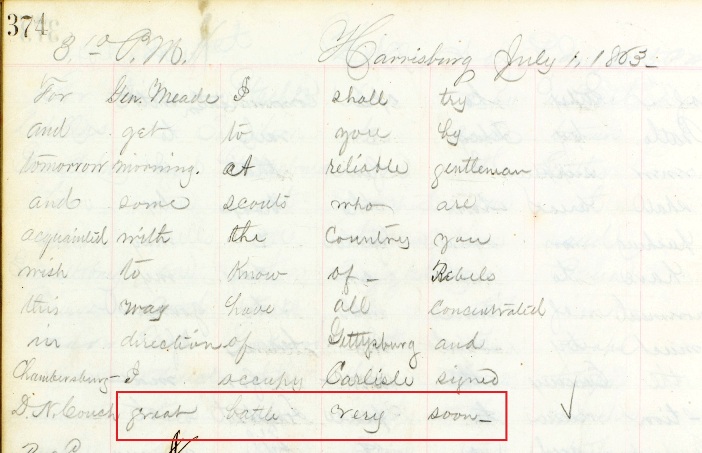 3.10 P.M. Harrisburg July 1, 1863
For Gen. Meade I shall try
and get to you by
tomorrow morning. A reliable gentleman
and some scouts who are
acquainted with the country you
wish to know of. Rebels
this way have all concentrated
in direction of Gettysburg and
Chambersburg. I occupy Carlisle. Signed
D.N.Couch great battle very soon
The last four words, great battle very soon, were added by the telegraph operator as null words. He needed four words to make the last row the same length as the rest of the telegram rows, which are each five words long. Having seen the messages come and go, and knowing the Confederates had almost made it to Harrisburg, he chose those four words. The battle had indeed been joined at Gettysburg, and it became a turning point in the United States Civil War.
These telegrams, as written down in ledgers in Washington D.C., and likely read by President Lincoln, will help us to expand our knowledge of, to provide fresh insight into, the greatest conflict in American history. Join our volunteer corps to witness the United States Civil War in a visceral way. Join us in transcribing and deciphering these telegrams and codes from the United States Military Telegraph!
To learn more about Decoding the Civil War, or try your hand at transcription, please visit our site, decodingthecivilwar.org.